Best Grande Prairie Local Movers
Looking for Local movers in Grandprairie? Real Pro Movers is top local moving company in Grande Prairie,  Alberta. 
With years of moving customers in and out of  Grand Prairie, we can  navigate through traffic and parking challenges without delay. As a British Columbia based mover we have trucks moving our customers to back and forth between British Columbia and Alberta every day of the week. At Real Pro Movers we offer both a long distance moving services and local moving services in Drumheller. We designed our moving services to allow you tailor your relocation requirements to fit with your busy schedule, time frame and budget. Our movers are well trained and have  years of experience. Honest, reliable, dedicated – to us these words are promises, not catch-phrases.

Standard Vehicles Of All Sizes To Reduce Cost
All you need to do is give us a call on 604.600.8541 or use the form here,  we have standard vehicles of all sizes which enable us to reduce cost. We'll  select the right vehicle size for moving your belongings.  Our fleet  of modern, well-maintained and regularly serviced moving trucks to pick up your items and transport them securely to your desired location. We  equipped our vehicles with a tail lift for a safe and easy loading process. 
Affordable Moving Materials
If you need  moving blankets and shrink-wrap, plastic boxes and Cardboard Boxes in order to keep your furniture safe during transport, please contact us.
Expert Local & Long Haul Mover in Grand Prairie
When you book your local or long distance move with us you can relax knowing that our decade of moving experience will help your moving day to go smoothly.  
Trusted Moving Company In Grand Prairie
We have a proven record of satisfied services delivered across Alberta and British Columbia. Our customers review us daily on Google, Yelp and other platforms. We are proud to show them on our website for you to see.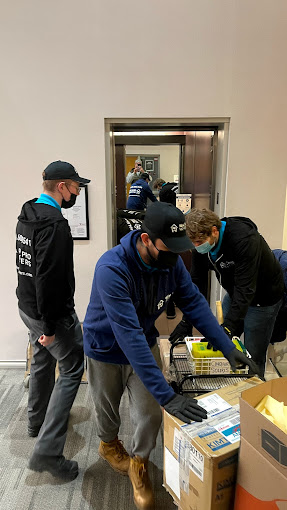 Ready To Move In Grand Prairie?
Moving from Grand Prairie to Banff AB
Moving from Grand Prairie to Brooks AB
Moving from Grand Prairie to Abbotsford BC
Moving from Grand Prairie to White Rock BC
Moving from Grand Prairie to Campbell River BC
Moving from Grand Prairie to Courtenay BC
Moving from Grand Prairie to Coquitlam BC
Moving from Grand Prairie to Calgary
Moving from Grand Prairie to Grand Prairie AB
Moving from Grand Prairie to Kamloops BC
Moving from Grand Prairie to Langley BC
Moving from Grand Prairie to Lloydminster AB
Moving from Grand Prairie to Merritt BC
Moving from Grand Prairie to Nanaimo BC
Moving from Grand Prairie to Penticton BC
Moving from Grand Prairie to Regina SK
Moving from Grand Prairie to Parksville BC
Moving from Grand Prairie to Vernon BC
Moving from Grand Prairie to Vancouver BC
Moving from Grand Prairie to Winnipeg MN
Our Affordable Moving Services