Cost-Effective Moving And Packing Boxes Options
Real Pro Movers is a Vancouver residential moving company committed to your moving day. 
If you've never moved before or you have but don't want to do the grocery-store-shuffle-asking-for-boxes game ever again, we can help. We provide you with cost-effective moving and packing boxes options. Our cardboard boxes (for sale) and reusable plastic boxes (for rent) are available in a variety of sizes that will minimize the hassle of finding the right size box and maximize protection of your valuables during transportation.
When you find your own packing boxes, they typically will be different sizes and shapes. But when you buy cardboard boxes or rent plastic boxes from Real Pro Movers, they might be a combination of different sizes (small, medium, and large) but they will be uniform in shape. This allows us to load your belongings into the truck more efficiently and safely.
Properly packing your belongings for relocation, whether it's across the city or a long-distance move to some place else in British Columbia, is a key factor to a successful moving day. The relocation process can be intimidating, even overwhelming. How will all your stuff fit into boxes? What kind of box should you use? What size of box do you need?
We will help you with the specifics, but just to give you a general idea of what you'll need, here's one example. For two people in a one-bedroom apartment or condo, you might require: 20 small boxes, 16 medium boxes, 20 large boxes, 4 wardrobe boxes.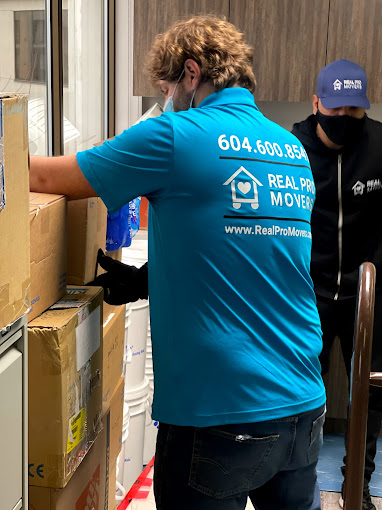 We believe it starts with our hiring process. We never hire students, part-time workers, or day-labourers. We only interview professional Vancouver movers and packers who have been in the furniture moving business for at least a year. Darrel exemplifies the Real Pro Movers' hiring philosophy – a friend and one of the first people hired, Darrel had been a mover in the film industry where it was imperative to take extra care with equipment and props. Our moving crews are trained to be as highly efficient as possible. From the planning stage to transporting your furniture and possessions to your new home, Real Pro Movers is expert at moving and packing Vancouver families from across the city or across the province.
Honest, Reliable and Dedicated – Real Pro Movers
While cardboard boxes are recyclable, their reusability is limited. Since we like the Frogbox Vancouver idea, Real Pro Movers rent stackable plastic moving boxes for your convenience.
Combo Pack #1 ($90.00)
10 small, 10 medium, 10 large
Price: $90.00
Combo Pack #2 ($135.00)
15 small, 15 medium, 15 large
Price: $135.00
Combo Pack #3 (Contact for pricing)
Do you need a different combination of small, medium and large plastic boxes? If you wish to order larger quantities or require other custom options, please call us for pricing – 604.600.8541.
Please Note:
All prices included pick up/ drop off in the evening hours between 5-9pm 7 days a week. Rentals are based on a 7-day period, allowing you 3 days to load, 1 day to move, and 3 days to unload. Free delivery for customers in Vancouver, North Vancouver and Burnaby. Fuel and toll charges will apply elsewhere.
Real Pro Movers offers both Long Distance Moves and Short Distance Moves in Canada. 
Plan for enjoyable moving!