Commercial Moving In Vancouver
Real Pro Movers is a Vancouver residential moving company committed to your moving day. 
Office moves can be overwhelming, complex, and costly. An office move might become a nightmare without the right professional guidance and comprehensive planning. Let Real Pro Movers help you avoid an office moving horror story because we'll be with you through every part of the office moving process.
Office moves can be overwhelming, complex, and costly. An office move might become a nightmare without the right professional guidance and comprehensive planning. Let Real Pro Movers help you avoid an office moving horror story because we'll be with you through every part of the office moving process.
One of the most significant costs associated with moving a business is downtime of staff members who aren't able to get on with their regular day. Whether moving a small business across the street or moving an entire facility across British Columbia, Real Pro Movers are committed to preserving the productivity of our customers' businesses during the relocation process.
When it's time to move your business, you need the support of a moving company who understands the unique requirements of commercial moving, inside out.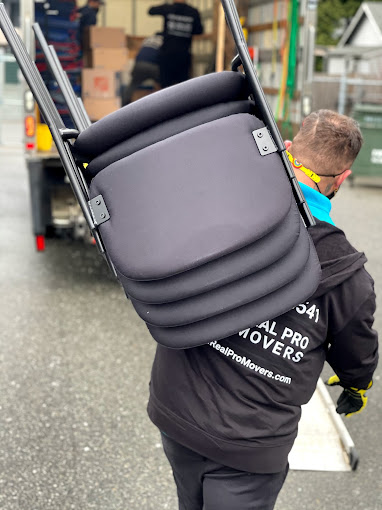 Practical Steps For A Worry-Free Office Move
We've completed thousands of projects in the public and private sectors. As a result, Real Pro Movers have in-depth commercial moving knowledge and the right systems in place to make your move a success. Planning is key to a successful, worry-free office move.
Step 1: Hire Professional Office Movers
While moving might seem like moving, don't make the mistake of assuming that a residential moving company can smoothly execute your office move. Office moving requires that movers have the expertise, experience and specialized equipment necessary to handle your office move seamlessly. You can't compare a residential move to moving a business or company. Complex logistics are involved in managing an efficient, organized office move. Most moving companies don't have all the expensive equipment and the experienced moving crews that are required: if they do offer commercial moving services, it's not on a regular basis.
In order to guarantee a seamless moving experience, hire only a seasoned office moving company. Professional office movers have the experience necessary to ensure that your move is executed efficiently and that your furniture, equipment, and files arrive safely. They also know how to protect your office walls, floors, entryways and stairwells from being damaged in the process of moving your business to its new location.
Step 2: Select Your Office Moving Company ASAP
The most highly recommended professional office movers with experience relocating businesses are popular for a reason. Real Pro Movers do our best to accommodate your moving dates, including last minute and weekend moves. However, your best chance of moving on your preferred dates with the trusted mover of your choice is to schedule your moving date as soon as possible. After finding and selecting a moving company, act quickly to ensure they are available when you need them to move your office on your schedule. The moving company you choose should guide you through the process from beginning to end, providing valuable suggestions and strategies to ensure your moving day goes smoothly.
Step 3: Invest in Packing and Unpacking Services
When it comes to office moving and relocation, many business owners say packing and unpacking are their least favorite tasks. They find the amount of furniture, equipment and other items and the logistics of organizing it all in an organized way very daunting. Without a proper labeling and an organization system, when you arrive in your new office space, it will be disorganized and chaotic. An experienced, professional office moving company will have the proper equipment and experience to efficiently and safely move all of your belongings, without risk to confidential files, expensive technology, and the CEO's asymmetrical glass and steel desk.
The easiest way to minimize the stress of office moving is to hire a professional moving company for both packing and unpacking. It might appear more economical to inspire everyone to pitch in, but in the long run, it will be more affordable than still searching for the L to N files two months after your office move. Factor in how long the disruption will last and the amount of time workers spend away from their desks, and the expensive of packing and unpacking services don't seem so extravagant. Professional office movers know how to safely pad, pack and protect office furniture and equipment so they are not damaged during transport and they arrive in the same condition they were in when they left your previous location. Ask for an estimate – we're confident you'll be pleasantly surprised at how affordable it is. If you do plan on doing your own packing and unpacking, take advantage of Real Pro Moving Tips.
Step 4: Take Advantage of Storage Services
When downsizing, equipment, furniture, and cabinets that won't fit into your new office space, you might require long-term storage until they can be sold or repurposed. If moving out and moving in aren't occurring on the same day, you may need short-term storage to store your company's belongings. Real Pro Movers have our own storage facility, where items are stored in large containers so they are fully protected from being scraped, crushed or dented.
Step 5: Sell or Give away Unwanted Furniture
Moving is an opportunity to take inventory of your furniture and technological equipment. This is a time for a fresh start and a new beginning: whether you're moving into a smaller space or into a new office, purging outdated items, duplicates or multiples, or items that are no longer useful is a necessary part of the moving process. Decide what items will be sold, donated, or thrown away. Post items for sale on sites like Craigslist. The sale of high-end office equipment and furniture can help with moving costs. Technological equipment donated to schools, hospitals, and non-profit organizations are often allowed as tax deductions – ask about receiving a tax receipt for charitable donations. Ask your professional office mover for recommendations of companies that will pick up donated items at your convenience. Don't forget to recycle and to properly dispose of the other items that can't be recycled.
Services That Real Pro Movers Provide
Some of the services our experienced movers provide are:
honest estimates – there are no surprises or hidden fees
accommodate last-minute moves – whenever scheduling allows, we excel at unexpected relocations
packing and unpacking
short and long-term storage
weekend pick-up and delivery service – there's no additional charge
Real Pro Movers has earned a reputation as one of the best office movers and commercial moving service companies in Vancouver, BC. Because we have been office moving small and large local companies for many years, we have the experience and know-how to handle all your moving needs. Whether it's a corporate relocation, small business, or a one-room office, our team is recognized for being thorough and professional from our initial contact until the last piece is unloaded into your new office. Our Real Pro Movers team is committed to providing exceptional customer service and exceeding your expectations for a worry-free and seamless relocation.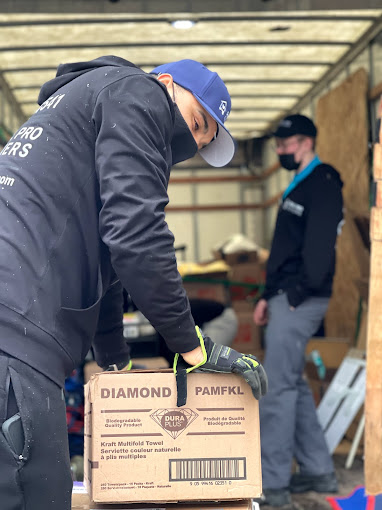 Plan for enjoyable moving!