Real Pro Movers is a Vancouver residential moving company committed to your moving day. 
If you own a piano, you know it is the heart of your home. It's where people gather round to listen or sing along; where music is played for celebration or contemplation; where little fingers play hesitant notes that make you smile. So, when the piano has to be moved, you might get a bit anxious. Whether you are moving to a new house, condominium, or you're staying but the piano is moving to another location, don't ask a friend with a wide bed truck for help. Real Pro Movers have extensive experience in the relocation of all types of pianos. Regardless of age, size, or sensitivity to changes in humidity and temperature, our piano movers will safely relocate your piano.
Our special piano moving equipment and time-tested moving techniques will alleviate any stress your piano move might cause. Like people, each piano is unique. Whether it's a baby grand, an upright piano that belonged to your great-grandmother, or a concert grand, Real Pro Movers takes exceptional care to ensure its safe arrival.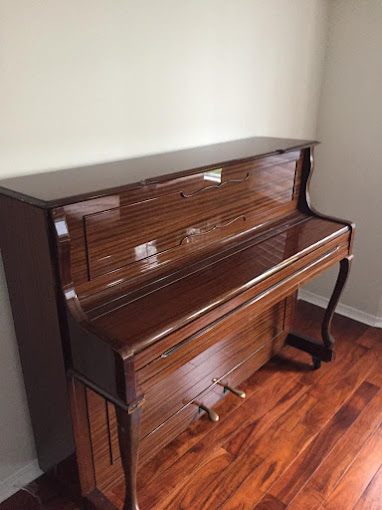 The requirements to move a piano is different for each one. How the piano is moved depends on a combination of factors such as where the piano resides, the size and shape of the instrument, accessibility, and if it needs to be navigated around corners or down stairs.
Moving Upright Pianos and Apartment Pianos
Our piano movers team lift the piano on to a piano skid. We then wrap the instrument in protective blankets to prevent any damage including scratches, chipping, or broken pedals. We also ensure that your walls and doorways are protected. We secure blankets to the piano and then apply a layer of shrink wrap for added protection. It is then secured to the piano skid with heavy duty straps. The skid is then placed on to a dolly and rolled toward the exit. If stairs are involved, the Real Pro Movers piano moving team places the piano skid directly on the stairs, and then, with great care, slides it across the steps to the truck for transportation.
Moving Baby Grand Pianos and Grand Pianos
Before moving a grand piano, our piano movers team sets up a piano skid wrapped in a moving blanket and then covered with a second one. The piano moving team will then remove the pedal box, piano lid, and each leg. When the piano is left standing on its side, on the blanket, with the piano skid underneath, the instrument is then wrapped in the blanket and shrink wrap to prevent any damage. Our piano moving service also includes wrapping each disassembled piece prior to loading it into the moving truck. The piano is then moved across any surface or stairs in order to get it to the truck. Once securely placed inside, the piano is off to its final destination. Successfully moving a grand piano is a complex operation, involving strategic planning and skillful execution, all values that Real Pro Movers guarantees to its valued customers.
P.S. We will move your electronic piano with the same consideration and care. While it's not subject to the same perils as an acoustic piano, the keys can still be shaken loose or hardware becomes damaged.
Piano Moving Equipment
Any piano owner knows that moving a piano is a great responsibility. During the consultation process, we take the time to gather all the information needed to organized and carefully carry out the transportation of your piano from the old location to its new home. We use a special piano skid with belts to fasten the piano to the board, and special belts to help us lift it. Skid boards are indispensable when we need to move the piano up stairs, down stairs, or simply remove a piano from the residence.
Our trucks are small enough to park on narrower Vancouver streets of various sizes but wide enough to safely accommodate any sized piano. Equipped lift gates guarantee safe loading and unloading of any piano being loaded or unloaded.
Real Pro piano movers Vancouver service takes great pride in teamwork and in our team's years of experience in meeting our clients moving needs. When Real Pro piano movers arrive on the scene, you can be sure that the job will be done by experienced team members who know how to work together in order to complete each stage of the piano move quickly and efficiently.
With Real Pro piano movers, you can be confident that only professional and experienced movers are assigned to our piano moving teams in order to make sure that the highest level of care is dedicated to every move.
Real Pro Movers have been awarded as best piano movers Vancouver service. We're proud to be recognized as best piano movers Vancouver, North Vancouver, Coquitlam, Port Coquitlam, Abbotsford, Langley, Richmond, West Vancouver, and Vancouver Island.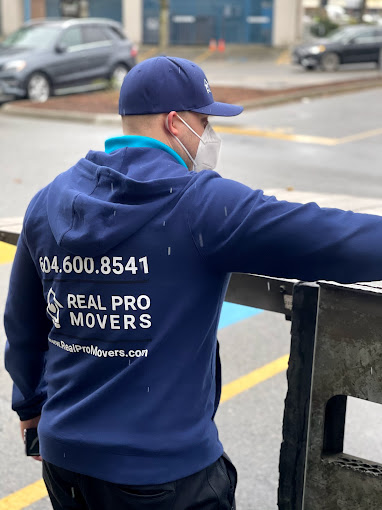 How To Order Our Services In Vancouver Or Other Areas
To request our piano movers services, you can contact us by phone or email. You can also fill out the "Get Estimate" form on our website. Don't forget to include as many specific details as possible, including special requirements, type of piano, where it's leaving from and its destination, and measurements. We will contact you as soon as possible to discuss all the details and set a date that's convenient for you. Our prices depend on a combination of factors – after finding out all the details, we'll let you know exactly what your piano move will cost.
There are no obstacles or situations we can't handle. Ask us anything you need to know to assure you that Real Pro Movers can be trusted to manage your piano move. Move your piano safely within Canada, our best piano movers Vancouver specialists. Contact us today!
Plan for enjoyable moving!